Treatment Description
Treatment Description
A Biomechanic assessment is an analysis of the foot and lower limb. We take a look at everything from the way you stand and the way you walk, to the shape of your foot and your body, making necessary adjustments where needed.
Call 01282 453 110 to book your appointment.
When to consult a Biomechanics expert?
Should you feel any pain in your feet, ankles, knees, hips and lower back, we advise you seek the advice from a Biomechanic expert. The biggest of problems can so often come from the smallest of things. Once you are assessed, we will know immediately what treatment you require, making sure you are aware of the next steps in getting you back to feeling your best.
Biomechanics treatment is an excellent preventative measure, too, particularly for people who enjoy exercise and sport. Through the importance of having the perfect shoe, Biomechanics is now becoming the 'go-to' treatment for power and endurance enhancement.
Read more on Biomechanics and it's benefits: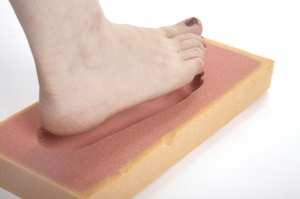 Our Biomechanics experts are also skilled in general Podiatry, addressing conditions such as:
• corn and hard skin
• verrucae (plantar warts)
• skin disorders / infections
• in-growing toenails
• nail cutting and surgery
Click to visit our Podiatry page for more information
ARTICLE: Put Your Best Foot Forward
ARTICLE: Footflex – What type are you?
ARTICLE: Biomechanics – Me and my 3 degrees
Prices
A Biomechanical assessment lasts between 30 and 60 minutes and costs £45. The cost of orthotics are extra as they vary greatly in price and would be discussed with you during your appointment.
Call 01282 453 110 to book your appointment today.